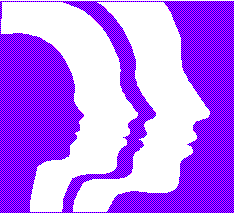 RESOURCES
for Californians (and others)
affected by physical disability or
disfigurement

---
WELCOME TO MY HOME PAGE! My name is Sandy Goodwick. I am from 'the Golden State' (California), a teacher (having taught for .... a loooooong time!), and also am an adult with a disability (Moebius syndrome - congenital oculofacial paralysis). This web site is a reflection of my personal belief that there indeed must be a 'coming together' of -
PARENTS of children with disabilities and their families,
PEOPLE with disabilities (ALL ages), and
PROFESSIONALS interested in their care...
in order to truly ADVOCATE for 'disability rights'. TOGETHER we can make the greatest difference!
---
Parents ..... for the most part, haven't planned on having a child with a disability in their family. As a result, the challenges in raising a child with a disability can seem insurmountable at times. In getting to know adults with the same (or similar) disability as their children, parents can begin to see what life may hold in store for the family. The 'unknown' becomes less scary.

People with disabilities ...... need to know that even with a disability, they indeed ARE "OK", normal, and an integral part of the human race. There are many issues, thoughts, and experiences which neither parents or professionals clearly understand as individuals cope with various disabilities. In meeting others who are similarly affected, many people with disabilities can begin to reassert themselves with confidence, knowing that their differences ARE normal!

Professionals ... have a lot to learn about what it means to have a disability, not only from parents and families of children with disabilities but also from the many adults who have lived a lifetime with a disability and have a wealth of insight to share. Perhaps the professionals' greatest 'gift' to those with whom they work may be the humbling realization that, while they may work closely with individuals who have disabilities, they have not experienced the myriad of thoughts, experiences and feelings which these individuals have faced. It is imperative that professionals (whoever they are!) recognize their limitations in understanding this experience, and listen with 'open hearts'.

---
YOU WILL FIND ON THE FOLLOWING PAGES......
Resources
for parents and their families who are affected in having someone with a disability, for people with physical disabilities or disfigurements of ALL ages .... children, teens and adults;..... and the professionals involved in their care.

Page 1 contains links to ADMIRABLE PEOPLE, ADVOCACY, ASSISTED LIVING, ASSISTIVE TECHNOLOGIES, COMING EVENTS, EDUCATION.

Page 2 contains links to EMPLOYMENT, FACIAL DIFFERENCES, FOR CALIFORNIANS, GENERAL DISABILITY-RELATED SITES.

Page 3 contains links to GROWING UP WITH A DISABILITY, JUST FOR KIDS!, LEGAL RIGHTS AND RESPONSIBILITIES, LITERATURE, MEDIA, AND OTHER THINGS-, MENTAL HEALTH, PARENTS AND FAMILIES, PUBLICATIONS, TRAVEL, SPORTS, AND OTHER FUN THINGS.

Advocacy
for sharing "messages of deep conviction" on issues related to disability rights advocacy and other topics of concern or interest.

Disability Rights Forum
How do YOU feel about issues such as ...... 'assisted suicide', the ADA, inclusion......? Come here to share your views and read those of others.

Connections
is for us to gather disability-related sites in other languages and people or organizations willing to CONNECT with those who need disability-related information in another language.
Guest Book
is where you can visit those who've been here before.....
---
---
Click HERE to vote for this page as a Starting Point Hot Site.
---
****************
WANTED: Resources for non-English speaking individuals
Have you found a disability-related website which is in a language other than English? If so, such website information may be valuable to people who are unable to read English, but would greatly benefit from accessing a disability-related website in their own language. If you are familiar with such a site (disability-related website that is NOT in English), please share this information in the form provided below. I will make an additional page, just for these non-English web sites, so that non-English speaking individuals can also access disability-related information.
Here in California, many families whose children are affected by disabilities are not fluent in English. As our communities and schools go 'online', non-English speaking individuals may find it difficult to access the very same resources we so easily take for granted. So that these individuals can have assistance in finding resources regarding disabilities (and sensing the benefit from belonging to a 'cyber-community'), I'd like to start a network of bilingual people, familiar with disability-related resources and willing to connect (via email) with someone who speaks their non-English language (such as Spanish, Korean, Tagalog, Armenian, etc.). If you are interested in helping a non-English speaking individual gather needed disability-related resources, please complete the form below.
---
For non-English language web site ...
---
This site was planned and developed by
Sandy Goodwick
email me at sandygo@soca.com

---
---
---